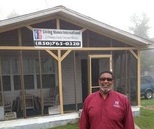 ---
A ministry dedicated to Children and Families ~ building, improving, and strengthening healthy relationships with family members. Our programs and services are teaching fathers and mothers how to be better parents and more active in their children's life; offering children the tools to overcome any obstacles and prevent them from following in their incarcerated parent's footsteps; aligning couples, who are still together, with tools to stay the course of their marriages; as well as advocating on behalf of families to our legislated community and government officials. Living Stones also recruits businesses to become stakeholders in the organization.
Living Stones is a voting member of the Service Network based in South Florida and as a member, we are responsible for establishing bonding visits between children and their incarcerated parents in North Florida State Prisons. The program called The Children of Inmates has provided quarterly bonding visits for the last six years at state prisons throughout mainly South Florida and now the North Florida as well. The network offers case management, mentors, and referral services to over 2,200 children through Broward and Miami, Gadsden, Jefferson, Leon, and Wakulla counties. They extend these same services to mothers / caregivers and incarcerated parents.
Read more
. . .
---
Our Mission of Living Stones is . . .
strengthening healthy relationships among family members; engaging fathers and mothers to be active in the lives of their children; mentoring engaged and married couples; and advocating the importance of family to our legislated body and government officials.

Our Motto:
to strengthen one marriage, to save one family, and to raise up one child at a time!
---
| | | |
| --- | --- | --- |
| Sign up for our newsletter! | | Shop here to support us! |
---
---
www.welivingstones.org
Living Stones International, 604 Eugenia Street, Tallahassee, FL 32310, (850) 765-0320, (850) 765-0485 Fax
Copyrighted 2007- 2013. All rights reserved.