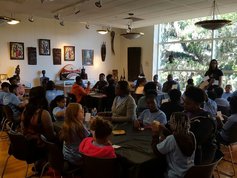 What an awesome way to start Steamhack 2017 by having our Children of Value (COVE) Academy meet at Florida A&M University Black Archives.

Vincent Hunt, Creators Camp leader, revs up the children's creative juices, in a diverse atmosphere of black history lessons. During the time children were working here, the actual hackers were coming up with solutions at DOMI Station at Railroad Square.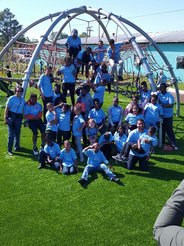 Time ticked on with a continental breakfast starting at 10 am, lunch at noon, and pizza at 6 pm. The children used every minute of their time to create their own scenarios; while the hackers were developing theirs. Of course, the end of the day, everyone including staff and volunteers blew off some steam.

​Everyone believed the children were exhausted, but that showed up differently outside. They were still climbing and jumping even after all the brain power used.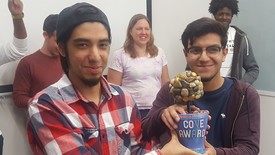 . . . The winners of the Children's Award--Children of Value (COVE) Award are two college students from FSU with building virtual reality. Of course the children would pick the goggles, but so did the professional judges. Way to go children. Scale of 1 to 10, 10 the highest score, they received a 10.